Keynote Speakers
Prof. João Tiago Praça Nunes Mexia
New University of Lisbon, Portugal
João Tiago Praça Nunes Mexia was born in Lisbon in June of 1939. The most part of his career was as Full Professor at the FCT/UNL-Faculty for Sciences and Technology of the New University of Lisbon. At that time he supervised the teaching of Statistics at FCT/UNL and directed the Research Center in Mathematics of the University (CMA-Center for Mathematics and its Applications) from 1999 to 2009. In 2009 he became Emeritus Professor. Until now he supervised 19 Ph.D. and co-supervised 12 Ph.D. His research is centered on Linear Statistical Inference, having almost 100 papers published in International Journals.
Speech Title: "Confidence Ellipsoids for Additive Pearsonian Models"
Abstract:

Prof. Alexandr Boichuk
National Academy of Sciences of Ukraine, Ukraine
Alexander Andreevych Boichuk is a Ukrainian mathematician, doctor of physical and mathematical sciences, professor, corresponding member of the National Academy of Sciences of Ukraine (since 2012), head of the laboratory boundary-value problems of differential equations of the Institute of Mathematics of the National Academy of Sciences of Ukraine, was awarded the State Prize of Ukraine in Science and Technology and Mitropolskiy Prize (2013). Professor A. Boichuk is an expert on the theory of the boundary value problems with the normally solvable operators in the linear part. For the first time defined the conditions for the solvability and spent the classification of the resonant cases a wide class of nonlinear boundary value problems for systems of ordinary differential and difference equations, delay equations, equations with impulsive and singularly perturbed equations for which the proposed use of the apparatus of generalized inverse operators. A. Boichuk is the author of over 110 scientific papers including three monographs. Under his guidance prepared 11 candidates of sciences.
Speech Title: "Boundary Value Problems of a Nonlinear Lyapunov Equation and Homoclinic Chaos"
Abstract: The report is devoted to obtaining a necessary and sufficient conditions of the existence of bounded on the whole axis solutions of a nonlinear evolution boundary value problems under assumption that corresponding homogeneous equation admits an exponential dichotomy on the semi-axes. We illustrate obtaining results for the Lyapunov type equation. We seek bounded solution of the nonlinear boundary value problem which turns in one of bounded solutions of the generating linear boundary value problem for the Lyapunov equation. It is shown that with using of proposed in report so called equation for generating operators we can obtain conditions of homoclinic chaos. We find connections between the well-known Palmer theorem and Melnikov function.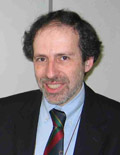 Prof. Carlos A. Braumann
University of Évora, Portugal
Carlos A. Braumann is Emeritus Professor and member of the research centre CIMA at the University of Évora (UE), Portugal, where he has been Vice-Rector in 1987-94 and Rector in 2010-14. His publications are mostly on Stochastic Differential Equations and its applications in several areas (population dynamics, fisheries, animal growth, demography, finance). He got his Ph.D. in 1979 at the Stony Brook University and his habilitation in Stochastic Processes at the UE in 1988. He is an elected member of the International Statistical Institute since 1992, a former President of the European Society for Mathematical and Theoretical Biology (2009-12) and of the Portuguese Statistical Society (2006-09 and 2009-12), and a former member of the European Regional Committee of the Bernoulli Society (2008-12).
Speech Title: "Individual Growth Modelling with Stochastic Differential Equations"
Authors: Carlos A. Braumann, Patrícia A. Filipe, and Gonçalo Jacinto
Abstract: Common growth curves for the weight X(t) of an animal at age t can be described by a differential equation of the form dY(t)=β(α-Y(t))dt, where Y(t)=h(X(t)) and h is an appropriate strictly increasing continuously differentiable function, α=h(A) (A= maturity weight of the animal), and β>0 is a rate of approach to maturity. Adjustment to data was usually done through non-linear regression inappropriate methodology that ignores the growth dynamics and the influence of environmental fluctuations on it. Instead, we use instead stochastic differential equations (SDEs) models dY(t)=β(α-Y(t))dt+σdW(t), where W(t) is a standard Wiener process and σ is an intensity parameter of the fluctuations. We have previously studied estimation, prediction and optimization issues using cattle weight data from females of Mertolengo cattle breed. In the present work, we have adjusted and applied the methodologies to the weight data of males of Mertolengo cattle breed and Alentejana cattle breed. Since model parameters may vary from animal to animal and that variability can be partially explained by their genetic differences, we introduce the extension of the study to SDE mixed models. These mixed models incorporate the individual genetic values that are available at the databases of the producer associations.
Acknowledgements: The authors belong to the research centre Centro de Investigação em Matemática e Aplicações (CIMA), Universidade de Évora, supported by FCT (Fundação para a Ciência e a Tecnologia, Portugal, project UID/MAT/04674/2019).
Invited Speakers

Prof. Alexander Bulinski
Moscow State University, Russia
Alexander Bulinski, Professor of the Moscow State University, Dr. Sc. Phys. Math. (Habilitation) is a Member of the Board of the Moscow Mathematical Society since 2000, was a Member of the European Committee of the Bernoulli Society (2002-2006). He is an author of 5 books and numerous research papers. His main results pertain to the theory of stochastic processes and random fields. Various statistical applications of limit theorems are also in the scope of his activity. A.Bulinski belongs to the scientific school of Professor A.N.Kolmogorov being his former PhD student. He was awarded the State Scholarship for prominent scientists and International Science Foundation Diploma ``for outstanding contribution to world science and education''. He is a winner of the Lomonosov prize in Science. A.Bulinski is a Member of the Editorial Boards of 6 journals. He was Invited Professor in France, Germany, Sweden, Netherlands, UK etc. Under his scientific direction 15 PhD-theses were written and 4 are in preparation. He was Keynote Speaker and Invited Speaker, as well as a member of Program Committees, at various International conferences. A.Bulinski is a Member of the Expert Council for Higher Qualification Committee of Russia, Head of the Federal Teaching Union on Mathematics and Mechanics in the Higher Education System of Russia.
Speech Title: "Statistical Estimation of Mutual Information and Applications"

Abstract: Statistical estimation of mutual information is important for various applications. Such estimates are employed, for instance, in machine learning, feature selection and identification of textures inhomogeneities. In this regard one can refer, e.g., to the book by V.Bolon-Canedo and A.Alonso-Betanzos (2018), see also a review by J.R.Vergara and P.A.Estevez (2014). We develop the quite recent papers by A.Bulinski, A.Dimitrov (2018) and A.Bulinski, A.Kozhevin (2018), concerning the Shannon entropy, to study statistical estimation of mutual information and the Kullback-Leibler divergence. We investigate the asymptotic properties of proposed estimates constructed by means of i.i.d. (vector-valued) observations. For this purpose we apply the techniques involving the nearest neighbor statistics. Special attention is payed to results of computer simulations in the framework of mixed models (see, e.g. F.Coelho, A.P.Braga, M.Verleysen (2016), W.Gao, S.Kannan, P.Viswanath (2018)) comprising the widely used logistic regression. In contrast to previous works we do not suppose that the set of a response variable values is endowed with nontrivial metric. This is essential in many cases for analysis of medical and biological data.